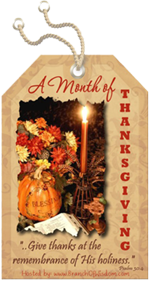 This post will incorporate two memes that I have chosen to join!
Every Thursday I join Ruth and many wonderful bloggers for a cup of tea (or a mug of coffee) and some Tea Talk at her blog, Celebrate Friendship.
And every day until Thanksgiving I join Tamara and many others at her blog,
Branch of Wisdom, in naming the blessings in my life for which I am thankful to God.
Click on the graphics or the links above to learn more
about each of these wonderful memes and join us!
I'm having...
"Daybreak" coffee from Caribou Coffee, brewed from a K-cup with my Keurig, smoothed with cream (half-and-half). I only want one cup today, so I'm not brewing a whole pot. My mug is one that I borrowed from my oldest son, Bryan, who left for his college classes earlier this morning (he commutes there from home). He bought it this past June at a lovely little shop in Zihuatanejo, Mexico. The rest of us bought T-shirts. I'm kind-of wishing that I had bought a set of these mugs, instead!
Read about our Zihuatanejo trip HERE

I'm feeling...
slightly tired, but otherwise pretty good!
On my mind...
the blessings God has allowed in my life. Today I thank the Lord for the unique friendships He has brought me into through the blogosphere! Wonderful ladies whom I have never met face-to-face...yet I look forward to our visits in one another's bloggy-living rooms, sharing little bits of our hearts as we make our way through this oft-times difficult life, always reminding each other to keep looking Heavenward, and to God for direction and strength. What a gift my bloggy-friends are to me!
But encourage one another day after day, as long as it is still called "Today,"
so that none of you will be hardened by the deceitfulness of sin.
For we have become partakers of Christ,
if we hold fast the beginning of our assurance firm until the end.
(Hebrews 3:13-14)