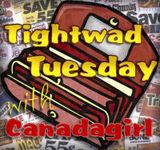 (To participate in "Tightwad Tuesday with Canadagirl," click on the graphic above or in my sidebar.)
Mary (aka CanadaGirl) asked if anyone had tips on saving money at hotels while travelling besides getting the hotels that offer free continental breakfasts. we do a lot of road-tripping and travelling, and have found a couple of things that work consistently for us:
#1. When I go to book a hotel, I always look to see if I get a fridge and microwave in the room. The fridge isn't so important, as we can simply bring up our Coleman cooler. But the microwave is nice...I can get frozen "TV" dinners, or make a dish that can be brought in the cooler, and microwave it for dinner. I would rather spend $20 extra per night on the room than pay $60 for dinner out.
#2. If there's one available where I'm travelling, I try to book a room in one of the "extended stay" hotels...the ones with kitchenettes in them, especially if I'm staying more than one night. Again, it may be $20 to $30 more per night than the Motel 6...but if we have to eat out, lunch and dinner, we'll spend way more than that. Bring a loaf of bread, jars of PB&J, or tortillas, mayo, lunchmeat/cheese and some prewashed lettuce leaves, some fruit, a bag of chips, and your water bottles, and you've got lunches.
No kidding, we show up with BAGS AND BAGS of groceries when we travel!
#3. I ALWAYS travel with my crockpot! Make the food for it in advance, freeze it if you won't need it for a couple of days, and it'll be good in the cooler. Baggie all spices needed. Bring plastic plates, forks, knives, spoons, and cups, and a little bit of dish soap. Use a washcloth from the hotel room to wash, but if you have something that would stain it, bring your own from home. Dressers with a towel laid out make fine dryer racks!
#4. We also bring snack foods in the bags and cooler...yogurt (the tubes of yogurt are best...Gogurt, they're called), cookies/granola bars, and cereal and milk for breakfast.
There is just no reason, if you're on a tight budget, to think you can't cook in a hotel room! Just be safe, NO electric frypans or gas stoves (you're not camping). Call the hotel and ask them to put a microwave in your room, or if one is available somewhere for guest use. And be sure to calculate the cost of a lower price hotel room with NO cooking facility requiring eating out vs. a slightly higher price room where you can cook.
God Bless,
Lori